Like any good fanbase, Toby Turner has his own set of fan videos, pictures, fictions, etc. Here's a compiled list of some of them.
Fanfiction
Edit
FanFiction.Net
Edit
Doctor_Who_And_Youtuber_Tobuscus Crossover
Livejournal
Edit
Tobuscus Love Song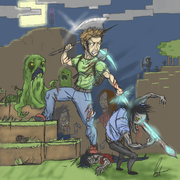 Some of the most common artwork fans make are things based off of his LP's, especially Minecraft. For a complete list of LPs, see the TobyGames page.
Ad blocker interference detected!
Wikia is a free-to-use site that makes money from advertising. We have a modified experience for viewers using ad blockers

Wikia is not accessible if you've made further modifications. Remove the custom ad blocker rule(s) and the page will load as expected.