habe28

Gabe as he appears in THE REAL GABUSCUS
Profile:
Click It!
Style:
Vlogs, sketches, and music
Date Joined:
2006
Date Shut Down:
N/A
Subscribers:
33K*
Videos:
Unknown
Schedule:
Unknown
Status:
Active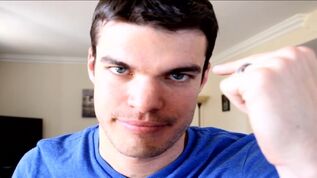 GABE'S CHANNEL, also known as habe28, is Gabuscus' channel. It has been active since 2006. Oddly, his channel isn't featured on Tobuscus' featured channels, but one of his friends (jacksfilms) is.
Ad blocker interference detected!
Wikia is a free-to-use site that makes money from advertising. We have a modified experience for viewers using ad blockers

Wikia is not accessible if you've made further modifications. Remove the custom ad blocker rule(s) and the page will load as expected.