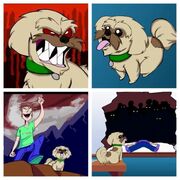 Gryphon



Appearances:

TRAPPED in MY DOG'S COMMERCIAL
HOW TO You suck PUPPY MEDICINE
PUPPY NOT AMUSED
Happy Wheels - MY DOG PLAYS
PULL-STRING TALKING GRYPHON
TOBUSCUS ADVENTURES GAME - Wizard Gryphon Update
CUTE PUPPY CRAWL
GRYPHON MINIGAME
WE DID IT, GRYPHON! - Tobuscus Adventures- The Game UPDATE
LORD GRYPHON
PUPPY ADOPTION FAIL
MERRY CHRISTMAS
TOBUSCUS ANIMATED ADVENTURES #5 - ZOMBIE APOCALYPSE GAME!
WHAT MY DOG TALKS LIKE
ONE MILLION SUBSCRIBERS
An Inspirational Quote from Gryphon (Tobuscus Instagram Video)
DANCE PUPPY
DON'T HUMP THE CREEPER
TOBUSCUS ANIMATED ADVENTURES #6: MAN-VENTURE
TOBUSCUS ADVENTURES: THE GAME
VANNESA HUDGENS PET MY DOG
Happy Wheels - MY DOG HATES ME! - Part 50
PUPPY IN A DRESS
WIZARD PUPPY
TRAPPED in a COMMERCIAL: KFC
TOBUSCUS ON TV!
SHIH TSU!!
WORLD OF WARCRAFT IN REAL LIFE
HOW TO LEARN KNOWLEDGE (Tobuscus and Gryphon Instagram Video #2)
TIMMY TALKS TO MY DOG!! - Happy Wheels
STUPID PUPPY
Happy Wheels - Puppy Treat
MYSTERIOUS HOODED MAN
FLYING DOG!
FREEZE, PUPPY!
ALL INDIEGOGO'S MUST COME TO AN INDIESTOPSTOP

Voice:

Toby Joe Turner "Tobuscus"

Species:

Dog (Shih Tsu,A Zoo With No Animals)

Allies:

Tobuscus, Gabuscus , FLitZ.

Enemies:

Timmy, Tobuscus (sometimes)

Likes:

Treats, Correcting Toby, barking, peeing on stuff, humping stuff.

Dislikes:

being woken up, zombies, Toby screaming, being told what to do.
Gryphon (used to be called Falcor) is Toby's pet dog. Gryphon is a hypoallergenic Shih Tzu to help with Toby's allergies. The spelling of his name comes from the World of Warcraft (WoW) spelling of Griffin. Gryphon often appears along side Toby in his Lazy Vlogs and has moved on to also making appearences in his TobyGames channel as well as his Tobuscus channel. Gryphon is also known to be annoyed by Toby's antics, as he is bothered by his childish comments and actions. He has a sub-plot going on in the Tobuscus's Gryphon Commericals in which he was 'engaged' to Gumball's mom Nicole. He often threatens to pee on Toby's stuff. He will also be having a his own minigame in the Tobuscus multi-platform game.