"Nod at the bird and people die,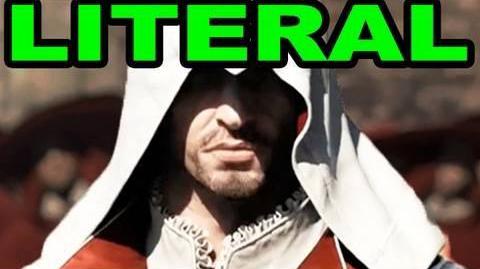 everywhere, people die!"
- Assassin's Creed Brotherhood LITERAL Trailer.
LITERAL Trailers is Toby's most famous creation, where he add lyrics to movie or game trailers. The lyrics are based on whats happening in the trailers, with what he's saying going to the tune in the background of the trailer. So, the trailers end up becoming much more hilarious than the original.
The LITERAL Trailer series started with Toby "parodying" movie trailers from Twilight Eclipse and Resident Evil: Afterlife etc. He later started doing games; this was when his career skyrocketed. His most popular video is the LITERAL Assassin's Creed: Brotherhood Trailer
Trailers he's done
Edit
Rage
Resident Evil: Afterlife Trailer
Tron Legacy
Halo Reach
Bioshock Infinite
My Soul to Take
Warriors Way
Skyline
Legend of Zelda: Skyward Sword
World of Warcraft
Crysis 2
Pirates of the Caribbean: on Stranger Tides
Assassin's Creed Revelations
Shark Night 3D
Call of Duty: Modern Warfare 3
Mass Effect 3
Prototype 2
Hitman Absolution
Darksiders 2
Iron Man 3
Axe Super Bowl Commercial
God of War: Ascension
Dead Island: Riptide
The Hunger Games: Catching Fire
Falling Skies
Wolfenstein: The New Order
Assassin's Creed 4: Black Flag
X-Men: Days of Future Past
Harry Potter and the Deathly Hallows
Ad blocker interference detected!
Wikia is a free-to-use site that makes money from advertising. We have a modified experience for viewers using ad blockers

Wikia is not accessible if you've made further modifications. Remove the custom ad blocker rule(s) and the page will load as expected.