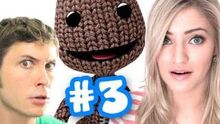 LittleBigPlanet 2 empowers Tobuscus to create his own levels by utilizing a variety of developer tools as well as various games like top-down racing games, multiplayer shooters, flying side-scrollers, RPGs and more. The game begins with a unique story mode that provides a beautifully reshaped world for Toby to explore and play. Each story level is influenced by cultural high points in history.
Ad blocker interference detected!
Wikia is a free-to-use site that makes money from advertising. We have a modified experience for viewers using ad blockers

Wikia is not accessible if you've made further modifications. Remove the custom ad blocker rule(s) and the page will load as expected.