Safety Torch
is a song by 
Tobuscus
. The song has somewhat of a story to it, as Toby attempts to sell safety torches to a little boy named 
Tim Tim
to scare monsters away. However, the torches set Tim Tim's house on fire and Toby then presents Safety Water- with a HUGE fee, of course.
Toby: Look at Little Tim Tim sleeping so soundly.
WAKE UP, TIM TIM, WHAT IF THERE'S A MONSTER?
Don't be scared, Timmy, or He'll eat you! Monsters smell fear, lucky for you,
I got a SAFETY TORCH! Put it on your porch!
SAFETY TORCH ! Put it in the hallway!
SAFETY TORCH! Scare the monsters away!
SAFETY TORCH! That'll be 50 bucks!
Little Tim: But my house is on fire!!!
Toby: Shhh...
Tim Tim, things are looking grim-grim, but lucky for you-you 
I have come with a solution-n-n-n-n
It's your lucky day!
SAFETY WATER! Put it in a bucket!
SAFETY WATER! Pour it on a fire!
SAFETY WATER! Maybe take a bubble bath!
SAFETY WATER! First one's on the house!
Tim Tim: Heh heh, I see what you did there, first one's on the house.
Toby: Haha, yeah, just the first one, though, but' it took quite a few of them, (what?) so' those, plus all those safety torches so it's probably around ummm let's just call it like 500 bucks.
Little Tim : But I don't have 500 bucks!
Toby: Oh, that's fine, I'll bill your parents.
Tim Tim: No!
Toby: Thanks for your time, go back to sleep, have a good night.
Tim Tim: My parents are gonna kill me.
The Creeper from Minecraft made a brief appearance during the maybe take a bubble bath lines.
The video is 1 minute and 23 seconds long. (1:23)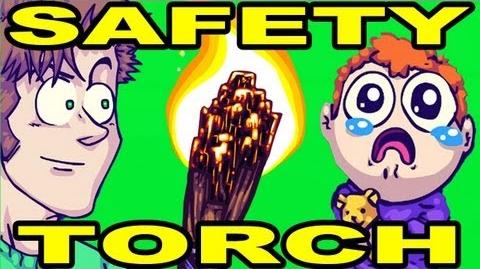 Ad blocker interference detected!
Wikia is a free-to-use site that makes money from advertising. We have a modified experience for viewers using ad blockers

Wikia is not accessible if you've made further modifications. Remove the custom ad blocker rule(s) and the page will load as expected.