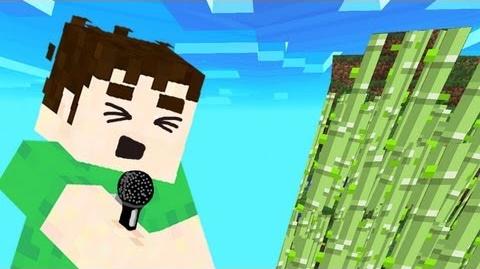 The Sugar Cane Song was created during one of TobyGames' Minecraft LPs. It tells the story of a married sugar cane couple and the strife caused by the husband sugar cane cheating on his wife with a mistress sugar cane.
Going to cut it
Into pieces
While it thinks that
It's going to live.
Look at the family of sugar canes.
HA! There goes the oldest one.
There goes the youngest one.
There goes the grandpa.
Look at Mom, she's over there.
Dad's over there.
There's strife between them two
Because this sugar cane is the mistress sugar cane.
Wife sugar cane doesn't like the mistress cane, cane.
She's insane, the mistress sugar cane.
The husband sugar cane, he loves his wife
But the husband sugar cane's wife isn't freaky enough
So he got the crazy, stupid, psycho mistress
And he tried to explain it to sugar cane wife,
"Girl, I love you
But I need a freaky sugar cane girlfriend, too, girl.
But I love you.
And I will stay with married to you the rest of my life
Until death do us part
Unless the mistress dies.
Then I'll probably have to find another mistress.
Oh no! My mistress much shorter now!"
And then the husband looks over the top of his mistress at his wife
And he sees the strife that he's caused
And he killed himself.
OK, I killed him.
It's OK. You were in his will.
Just read his will.
I'll be back, give you some time to read his will
'Cause I killed him.
Killed your stupid cheating husband.
Girl, you don't need him. Yeah.
He's stupid and he cheats.
And he's stupid, more importantly.
Gotta be married to a smart person.
You really need a smart person to be with
For the rest of your sugar cane life.
Give me some sugar, girl.
Give me some sugar cane, girl.
I love you, sugar cane.
Give me some sugar.
Ad blocker interference detected!
Wikia is a free-to-use site that makes money from advertising. We have a modified experience for viewers using ad blockers

Wikia is not accessible if you've made further modifications. Remove the custom ad blocker rule(s) and the page will load as expected.