Yes! I am ranked above the creator!
To all of you guys who are anonymous and doing those amazing edits, you really should just log in...
I hardly make that many edits. I should not have this position.
ANYWAY!
I'd like it if you went and read my Doctor Who\Tobuscus fic - Stop Vlogging In My TARDIS.
Also, I've got a collab story with TheMastersDaughter - Tobuscus The 12th Doctor.
I'd put a gif in here, but alas, only Tumblr gives me that.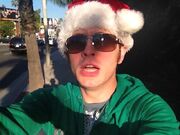 Instead, enjoy this picture of Toby in a Santa hat.
Ad blocker interference detected!
Wikia is a free-to-use site that makes money from advertising. We have a modified experience for viewers using ad blockers

Wikia is not accessible if you've made further modifications. Remove the custom ad blocker rule(s) and the page will load as expected.